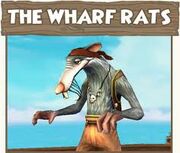 Wharf Rats are one of the many creatures in the Pirate101 game.
Wharf Rats are first shown when battling Ratbeard in the tavern cellar. They are first seen as bad guys, but you can actually get a companion named Milo Graytail at The Presidio dungeon.Edit
List of Wharf Rat Companions

Edit
Locations
Edit
List of locations on where you can find Wharf Rats: 
Tavern Cellar
Presid 
Scrimshaw
Blood Shoals
Flotsam
Westminster Skyway (in Marleybone) Ships in skyway
Tradewinds Skyway
(This is just my sightings of Wharf Rat locations so tell me if you found other Wharf Rat locations)
Wharf Rats are described as smelly and unclean.
Wharf Rats usally fight with a dagger.