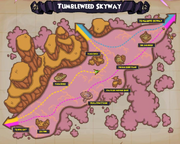 Spoiler warning!
This article contains spoilers about the game, please read with caution.
This page is under construction by Player67

Tumbleweed Skyway is a Skyway in Pirate101; to be specific, it is a skyway found in Cool Ranch. Home to the Birds, it is a meeting place for both skyways and sailors. However, not all of this Skyway is friendly- the Red Sash Gang is always a problem and local wildlife isn't always easy to coexist with.
Connects To
Edit
Places of Interest
Edit
Creatures
Edit
Enemy Ships
Edit
Ad blocker interference detected!
Wikia is a free-to-use site that makes money from advertising. We have a modified experience for viewers using ad blockers

Wikia is not accessible if you've made further modifications. Remove the custom ad blocker rule(s) and the page will load as expected.