Ad blocker interference detected!
Wikia is a free-to-use site that makes money from advertising. We have a modified experience for viewers using ad blockers

Wikia is not accessible if you've made further modifications. Remove the custom ad blocker rule(s) and the page will load as expected.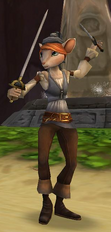 Sarah Steele - Mouse Fencer is restricted to Swashbucker only. This Companion is rewarded to the Swashbuckler Pirate after completing the "Bad Company" quest. She is very quick and nimble fencer. As she levels up she gains Accurate, Agile, Armored, Rough, Dodgy, and Strong ablilities.
Promotions
Edit
Her first promotion is at level 15 This promotes her into Sarah Steele - Mouse Swashbuckler
Her second promotion, at level 37, makes her Sarah Steele - Mouse Corsair
Her third promotion, will be at level 75 in teh next storyline update, makes her Sarah Steele - Mouse Praetorian
Companion Stats by Level
Edit
| Level | Strength | Agility | Will | Accuracy | Dodge | Armor | Resistance | Damge | Health |
| --- | --- | --- | --- | --- | --- | --- | --- | --- | --- |
| 5 | 22 | 32 | 16 | 10 | 12 | 1 | 0 | 19-34 | 110 |
| 6 | 23 | 33 | 16 | 12 | 14 | 1 | 0 | - | - |
| 7 | 23 | 34 | 17 | 13 | 16 | 2 | 0 | 27-45 | 155 |
| 8 | 23 | 34 | 17 | 15 | 17 | 2 | 0 | 30-50 | 178 |
| 9 | 24 | 35 | 17 | 16 | 19 | 2 | 0 | 33-54 | 202 |
| 10 | 25 | 39 | 18 | 17 | 21 | 2 | 0 | 39-65 | 225 |