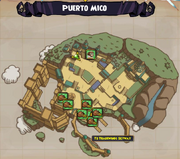 Puerto Mico 
is a small
Monquistan
Colony in the tradewinds skyway at the world of
Skull Island
. Used for trade and export, many people in this city are quite wealthy.
The Pirate does some questing in this area, the main quest line being that Captain Avery creates a treaty which will "make Skull Island a true republic". One part of Bonnie Anne's second promotion takes place here, and a part of Gaspard DeVole's first promotion occurs here. 
Puerto Mico is a clear parody of Puerto Rico, a former spanish colony, and a current united stated territory.
Ad blocker interference detected!
Wikia is a free-to-use site that makes money from advertising. We have a modified experience for viewers using ad blockers

Wikia is not accessible if you've made further modifications. Remove the custom ad blocker rule(s) and the page will load as expected.