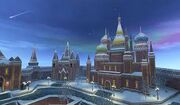 Polaris
is a world that is mentioned during the Puppet Show-
Napoleguin
. Home to Walruses, Polar Bears, and Penguins, very few can survive in the harsh areas that make up the land. Once a place of traditions, the
Penguin Revolution
upset the old ways and has left Polaris changed. Polaris is also responsible for the
Polarian War
.
It is the home of Napoleguin, and has probably has fallen on hard times after the Polarian War, since it's army and navy was riddled with revolt and was destroyed almost completely at the end of the War. In Valencia Part 2, it was shown in a side quest that Napoleguin is now Emperor of Polaris and has made peace with all of his former enemies, except for Marleybone, which intercepts shipments from Polaris.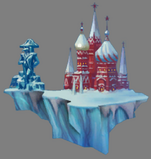 Nothing else is known about Polaris since it's a world that is not yet accessible; however, the latest update (the 2016 update, to be precise) has shown that Calabria Skyway in Valencia has a Stormgate that leads directly to Polaris. This may indicate that it is a part of the next storyline update.
Polaris is a remake of both France and Imperial Russia.
There is a star named Polaris.
Polaris or Darkmoor are likely for the next Pirate101 Update; however, for now this is unconfirmed. In stark contrast, it has been added in Wizard101. 
The main Polarian export is most likely pickled herring, which indicates there is a large fishing population in Polaris.
The world update with Polaris might include trying to rebuild Polaris or its military.