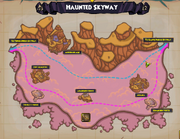 Haunted skyway
is a skyway traveled to later in the game. It is the most dangerous skyway in
Cool Ranch
; despite this, it is not the dangerous skyway in the
Spiral
, which is
Avernus Skyway
. However the two skyways have very similar dangers for many reasons, with one of them being filled with spirits and the undead, and another reason is ships are very likely to be destroyed here. The Areas in Haunted skyway are even similar to
Dragonspyre
in many ways, with none remaining but ghosts and spirits, and the undead, or mostly those struggling for survival. It is entirely unknown why Haunted Skyway is at it's current state, or what it was called before being known as "Haunted" Skyway. Some would say that it is a place that is also similar to
Darkmoor
itself.
Haunted Skyway is a skyway that was once inhabited by people from a distant area in the Spiral; however, the people soon abandon the towns in haunted skyway, and they became known as ghost towns for this reason. Some of the inhabitants stayed; however, some of them have been killed by the undead spirits that once lived, ghosts and the undead can be seen at these abandoned and desolate towns that were once inhabited. Few Individuals still live in mortal form by the events of Pirate101, with Fort McMutry the only sizable town left, and with the inhabitants in a constant in a struggle for survival.
Connects To
Edit
Places of Interest
Edit
Creatures
Edit
Enemy Ships
Edit
No NPCs are reported here
Ad blocker interference detected!
Wikia is a free-to-use site that makes money from advertising. We have a modified experience for viewers using ad blockers

Wikia is not accessible if you've made further modifications. Remove the custom ad blocker rule(s) and the page will load as expected.