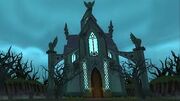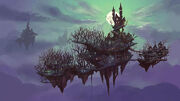 Darkmoor is the world that Madame Vadima originates from. It is not visited in Pirate101 yet, but it has made appearances by characters and dialog in the past. It is also mentioned in a lot of quests in Cool Ranch. Part of Darkmoor was visited in Wizard101. It is where William The Duck (English Bill) originates from, and Darkmoor's fleet of ships is controlled by him.
There are also Darkmoor ships in Cooper's Roost Skyway and Big Sky.
Marleybone colonies have been created in Darkmoor in Bell Gothic Skyway.
Ad blocker interference detected!
Wikia is a free-to-use site that makes money from advertising. We have a modified experience for viewers using ad blockers

Wikia is not accessible if you've made further modifications. Remove the custom ad blocker rule(s) and the page will load as expected.