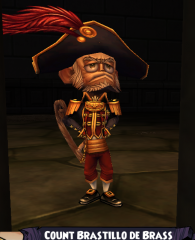 Count Brastillo de Brass
(otherwise known as 
The Brass Monkey
) is a famous and feared captain in the
Monquistan Navy
.
As of the events of Pirate101, Count Brass has built up a massive record when it comes to destroying navies- he has smashed 12 Marleybonian ships in a row without any need for help, generating both fear and hatred from Marleybone (according to Captain Dan). Knowing all too well the threat such a sailor could cause (and already possessing a hatred for Monquista), the player decides to give the Brass Monkey a run for his money.
They hunt down 10 Monquistan ships, bringing the Count's attention. After the destruction of his navy, the Count challenges the player to a duel at The Antilles Maelstrom, where the player will do battle with his Monquistan Galleon- the collosal El Pretension. Though the player will undoubtedly lose the sea battle, the Count and his crew prove to be less of a challenge than first believed and the player turns the tables on the Count, killing off his crew and locking him in chains. Naturally, the Count has plenty to say and swears revenge.
He is next seen at Port Regal, being handed over to the Redcoats, who take him to Fort Elena. Once again, he swears vengeance on the player.
He is seen again at Fort Elena itself; in fact, he is in the cell closest to the entryway blown into the jail cells by the player. He believes the player has come to taunt them, but cares little for it. As the player leaves with Napoleguin and his comrades, the Count warns the player that no prison can hold him and (yet again) swears revenge.
Sometime between the events of Cool Ranch and before MooShu's start, the Count acquires a smaller ship- El Pretension Dos -and (due to either a lack of willing crewmen or a loss of interest/favor from the crown) a crew of mercenaries recruited from Marleybone and Valencia to gain revenge on the player.
During the journey through MooShu, the player learns (through Monkey King) that the Count met Monkey King while the player was trying to break the latter out of prison; During his time in prison, he willingly gave the former the Turtle Ball that he held. In an event of unoriginal thought, he attracts the player into another storm to try and kill him/her; This time, however, the player has a better ship and good combat skills, killing the mercenaries and leaving the Count stranded in the storm (where he swears revenge once again).
Currently, there have been no more sightings of him; however, given the recent improvent brought along by the spring 2014 update, this may change.
Ad blocker interference detected!
Wikia is a free-to-use site that makes money from advertising. We have a modified experience for viewers using ad blockers

Wikia is not accessible if you've made further modifications. Remove the custom ad blocker rule(s) and the page will load as expected.