Cooper's Roost is a settlement in the center of the Cooper's Roost Skyway.  It is located in the world of Cool Ranch .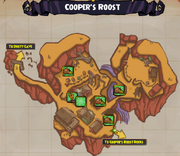 Westward Expansion
Edit
Many Bird immigrants came to Cool Ranch from an unknown world, otherwise known as the Black East, which is said on the Pirate101 website that the people there hardly ever mention. They made Cooper's Roost a prominent town. It features a saloon, an infirmary, a blacksmith, docks, a sheriff's office, an abandon Railroad, and a reservation for the bison tribes.
Ad blocker interference detected!
Wikia is a free-to-use site that makes money from advertising. We have a modified experience for viewers using ad blockers

Wikia is not accessible if you've made further modifications. Remove the custom ad blocker rule(s) and the page will load as expected.