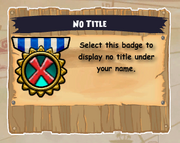 During their adventures, your Pirate can accumulate many Badges, honoring their accomplishments. Some badges even provide rewards upon receipt.
There are 7 major groups of Badges,As Shown below
Experience

Nautical Experience

Exploration
Boss combat
Creature Combat
Accomplishment 
Complete All
 Experience
Edit
Midshipmate (reach level 10)
Deckhand (reach level 20)
Sky Mariner (reach level 40)
Sky commander (reach level 50)
Lieutenant (reach nautical rank 2, reach nautical level 10)
Lt. Commander (reach nautical rank 3, reach nautical rank 20)
Commander (reach nautical rank 4, reach nautical level 30)
Captain (reach nautical rank 5, reach nautical level 40)
Commodore (reach nautical rank 6, reach nautical level 50)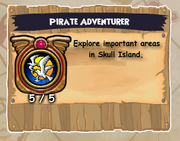 Exploration
Edit
Pirate Adventurer (explore 5 important areas in skull island, Skull mountain, Blood shoals, Jonah Town, Rapa nui, The presidio)
Tavern Crawler (visit 12 caverns)
Skull island smuggler
Flotsam flyler
Channel Corsair
Skull mountaineer
Tradewinds free trader
Tierra primate pilgrim
Order of St.Fossey
Spiral Navigator
Coopers Roost explorer
Big sky scout
Arroyo Runner
Frontier Difter
Santa pollo searcher
Tumbleweed trailblazer
Haunted Skyway undertaker
trailmaster
Vagabond
Subata Sojourner
Kjotan Kaizoku
Tai pan
Ad blocker interference detected!
Wikia is a free-to-use site that makes money from advertising. We have a modified experience for viewers using ad blockers

Wikia is not accessible if you've made further modifications. Remove the custom ad blocker rule(s) and the page will load as expected.