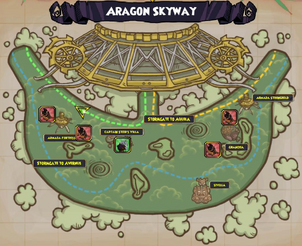 Aragon Skyway
is a skyway accessible by going through
Avernus Skyway
, and the only skyway in
Valencia
the player can go to besides
Calabria Skyway
Connects To
Edit
Places of Interest
Edit
Stormgate (Valencia to Dragonspyre)
Creatures
Edit
Enemy Ships
Edit
No NPCs are reported here.
Aragon skyway is the only skyway without any skyway creatures in the game, besides Arroyo Grande.
Ad blocker interference detected!
Wikia is a free-to-use site that makes money from advertising. We have a modified experience for viewers using ad blockers

Wikia is not accessible if you've made further modifications. Remove the custom ad blocker rule(s) and the page will load as expected.