High level Amber horde ships

Level range

46-49

Horn power

Figurehead power

Wheel power

Sails power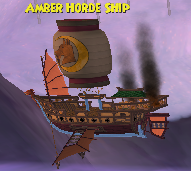 There are two kinds of Amber Horde ships these and the low level Amber Horde ships.
Drops are gold, clothing, fruniture, and ship parts.
1st Rater Light Armor
2nd Rater Light Armor
2nd Rater Medium Armor
Aged Mark 3 Anchor
August Electrum Anchor
Bronzed Mark 2 Anchor
Filigreed Mark 2 Anchor
18-Pounders
Resplendent Alloyed Cannons
Resplendent Enameled Cannons
Figureheads
Edit
Gold Pulpit Prow
Great Heron Figurehead
Scooped Prow
Striped Prow
Riveted Rudder
Tridented Rudder
Engineer's Wheel
Laquered Electrum Wheel
Lieutenant's Wheel
Horn of the Storm Lords
Horn of Ra
None
Ad blocker interference detected!
Wikia is a free-to-use site that makes money from advertising. We have a modified experience for viewers using ad blockers

Wikia is not accessible if you've made further modifications. Remove the custom ad blocker rule(s) and the page will load as expected.